Parinita Kumari has been awarded the Pacific Coast Archaeological Society (PCAS) Sherri Gust Memorial Scholarship. Sherri, the founder and president of Cogstone, was a PCAS Life Member and past president. The 2021 scholarship was funded by Cogstone.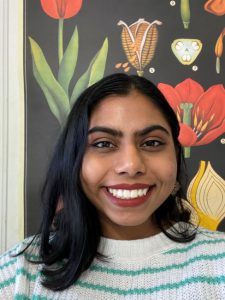 Parinita is a student at the University of California (UC) Davis. She first developed an interest in anthropology in sixth grade. She learned that the study of recovered artifacts could provide clues to cultural history, including that of her own South Asian heritage. Her academic focus is on evolutionary anthropology and archaeology. Using theories, skills, and concepts she learned from her courses, she started an independent study with the Haas Forager Complexity Lab, where she was introduced to coding, gained proficiency in using geographic information systems, and learned data analysis skills. After graduation she plans to work with a CRM company to gain practical experience before applying to graduate school. This summer Parinita plans to attend the UC Davis Archaeology Field School at a site in the Humboldt-Toiyabe National Forest. Congratulations Parinita!
Read a summary of her research.
If you would like to donate to the PCAS Scholarship and Grants program please click here!